Absorb what is useful, reject what is useless, add what is specifically your own."  Bruce Lee

We like to figure out new things and to make progress. We don't like passivity, because it's kinda bad for the creative mind. This time we are coming with a new post about CATIA rules. CATIA rules are not something new, there are here for a long time. So why this post now? This post aims to show our way of writing them. We use powercopies a lot. Certainly, a lot of them are connected with excel tables because of different versions of the same part. These tables can cause a lot of problems with some checkers. Hence this is a place where rules can be very good in our case. So we want to change this excel tables with rules. 
Change dimensions with the rule
Certainly, you can find on Google a lot of things about CATIA rules, and also it's not that hard to understand. Here are some references: Creating a Rule and Knowledge-Based Engineering PDF. Duo to this second reference we were enabled to create what we need. As a result, we will demonstrate to you what we did. Maybe you will need much more, but at least you can get some basic information.
Certainly, during this implementation, we figure out that there is a lot of possibilities.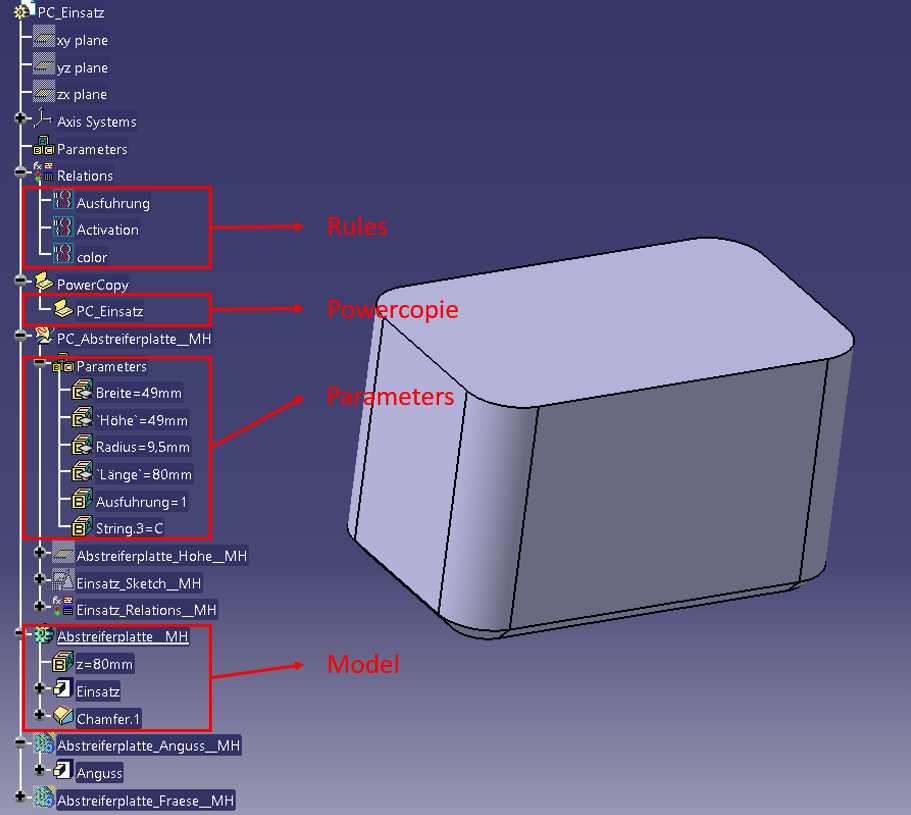 On the picture, you can see three rules, for part version, for activation, and color change. The first one will change length, height, width, and radius depending on the version. 
From this rule, you can see some basic, while you need some conduction to make it work. In our case, it is part version. So when it is "1" it will set value for other parameters. When you want to choose the parameter you need to click on it in the tree. We tried just to write it like the text but it didn't work. We will show it in the video anyway. So with this knowledge, you can parameterize any kind of model without an Excel table. That was our goal in the beginning. Finally, let's see some other CATIA rule possibilities.
Furthermore, in the process of the parameterization, you also need to activate or deactivate some things in the model, like a number of holes, etc. For example, one plate in the shorter version has 3 holes for screws and in the bigger version four. So you need to activate that one or deactivate it. Certainly, you can do it with the rule.
Of course with this approach, you can activate or deactivate any element.
Even more, you can also change the color of the elements using CATIA rule. We found two ways to change color, first with the name of the color and second with the hex code. 
So this is our implementation of CATIA rules. In conclusion, from our experience, part parametrization is one of the best. We hope that we helped you with this topic.